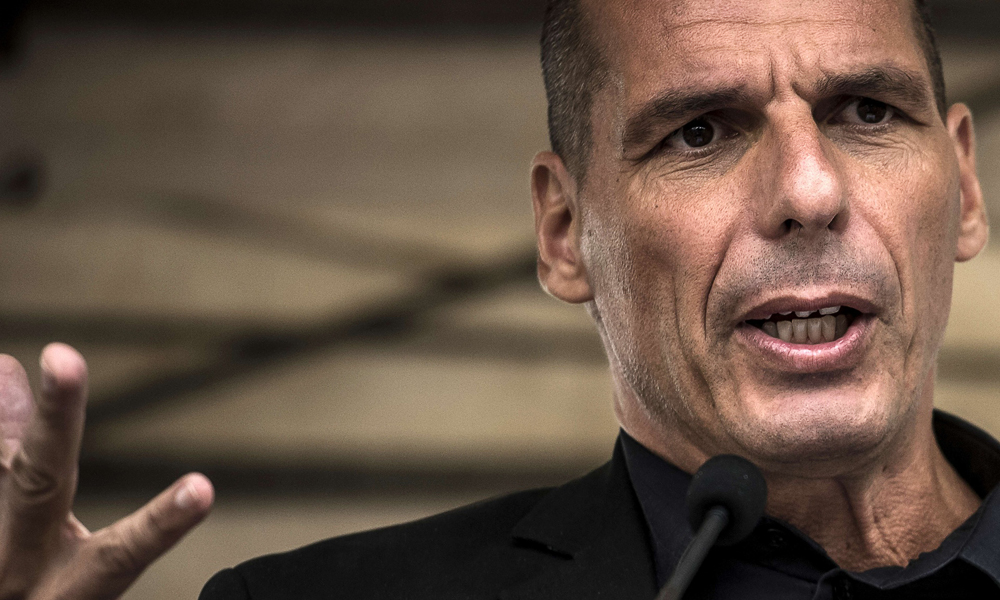 Former Greek Finance Minister Yanis Varoufakis (image: Jean-Philippe Ksiazek/AFP/Getty)
By Pepe Escobar
Seven months after resigning as the finance minister of Greece, self-described "erratic Marxist" Yanis Varoufakis is resurfacing (out of the Aegean Sea?) with a bang.
This past Tuesday, at the Volksbühne Theater in Berlin, Varoufakis launched a new project: the DiEM25 (Democracy in Europe Movement 2025), whose aim is to ultimately transfer power from Europa's unaccountable, fiercely authoritarian elite and distribute it – fairly – among European citizens.
Greek myth? Why not? And exactly when Europa badly needs a new foundation myth. Varoufakis bets that the movement will eventually reach a "basic consensus" on what to do to really introduce democratic practices into how the European behemoth is run. And then, onwards to parliamentary democracy, via elections.
The diagnostic by Varoufakis would resonate among every sound minded EU citizen. It features unaccountable European elites; "big finance" and "big industry" forming the "unholy cartel" that is the "main driver of EU policy"; the European Central Bank (ECB) propping up the "cartel" by printing money like there's no tomorrow through quantitative easing (QE); Italy as the new Greece, suffocated by its debt repayments; the fallacy of the theoretically apolitical ECB controlling interest rates across vastly disparate countries; and the Mafia behavior of the Eurogroup (comprising the 19 finance ministers of eurozone members).
Not surprisingly, the fallacy of this "model" of running the eurozone has produced devastating unemployment and facilitated the rise and rise and rise of the extreme right.
The concept of DiEM25 is inspired by what people across Europe should have done in the 1930s, before the ascension of Nazism and fascism; a pan-European, trans-political democratic movement. Varoufakis identifies all the toxic trends of the 1930s in the current, abysmal turmoil engulfing Europa.
He wants DiEM25 to be more than "just a think-tank and… an internet community".
At the same time he'd like the movement to be essentially leaderless. And there's the rub; Europa may not need heroes, but as it stands it definitely needs true leaders.
Full article at RT Op-Edge