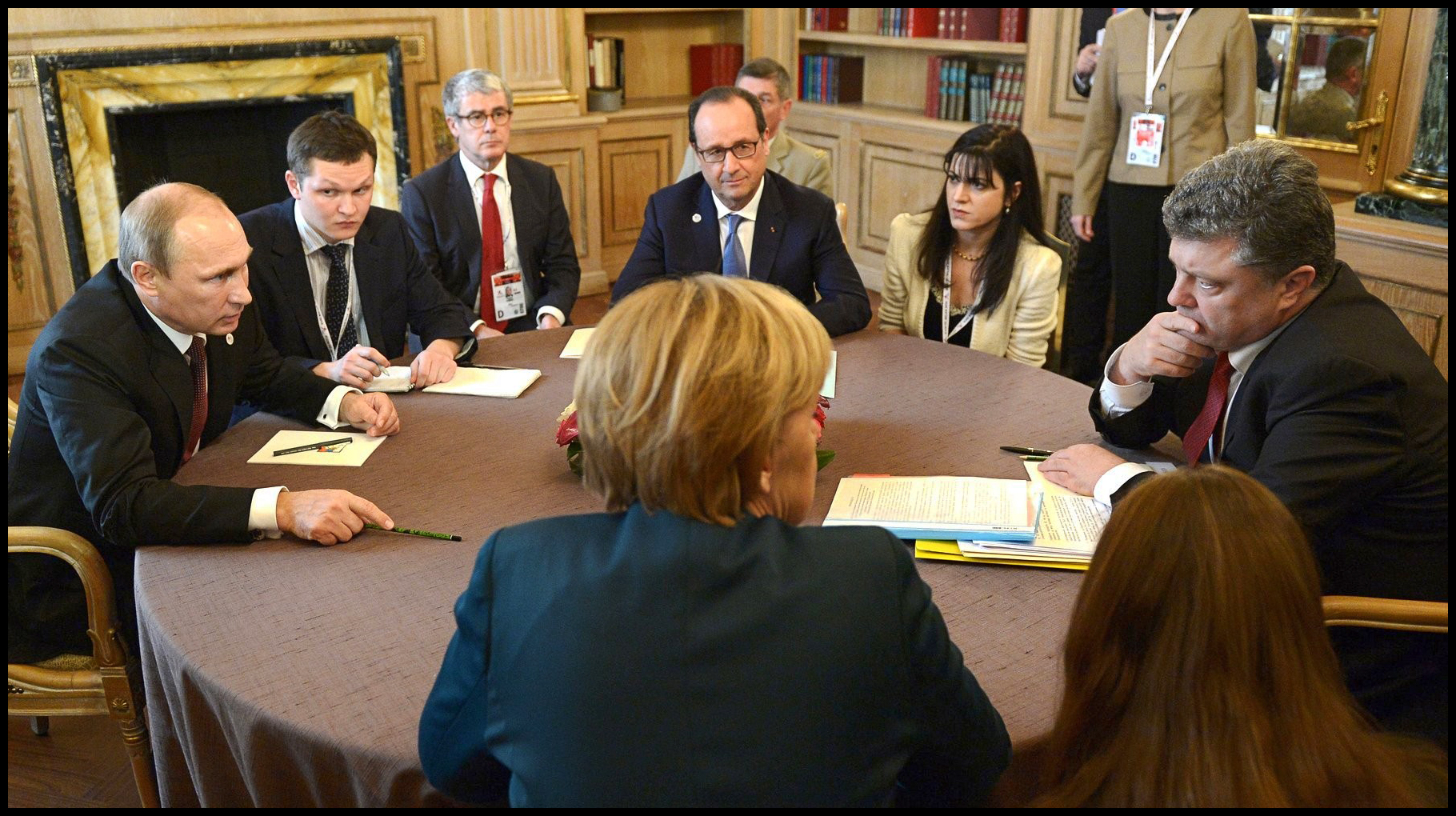 Former German Chancellor Merkel Admits that Minsk Peace Agreements Were Part of Scheme for Ukraine to Buy Time to Prepare for War with Russia
Former German Chancellor Angela Merkel said in an interview with Die Zeit, published on December 7, that "the 2014 Minsk agreement was an attempt to give time to Ukraine. It…used this time to become stronger as can be seen today. The Ukraine of 2014-2015 is not the modern Ukraine."
These comments echoed those of Petro Poroshenko, the former president of Ukraine, who came to power in snap elections after the 2014 coup d'état. Regarding his signing of the Minsk Accord, Poroshenko repeated in a Deutsche Welle interview last June his previous admission: "Our goal was to, first, stop the threat, or at least to delay the war—to secure eight years to restore economic growth and create powerful armed forces."
Meaning that Ukraine had no real intention of following the accords, but wanted to buy time while Ukraine built fortifications and developed a military strong enough to wage a war of aggression against the Russian-tilted Donetsk and Luhansk regions, which had demanded autonomy from the Ukrainian government installed in the February 2014 coup.
Ukrainian President Viktor Yanukovych (2010-2014) became a target for regime change when he spurned an International Monetary Fund (IMF) loan and instead drew his country closer to Russia.
When protesters backed by the U.S. did not have enough signatures for Yanukovych's impeachment, they overthrew his government by force and hunted down Yanukovych's supporters. The new Ukrainian government further tried to impose draconian language laws and attacked the people of eastern Ukraine after they voted for their autonomy after the coup—an attack that began right after then-CIA director John Brennan visited Ukraine.
Signed originally on September 5, 2014, by Ukraine, Russia, rebel leaders in eastern Ukraine and the Organization for Security and Cooperation in Europe (OSCE), with mediation by leaders in France and Germany, the Minsk agreement had followed a twelve-point protocol advocating for a cease-fire in the fighting between the Ukrainian military and Donetsk and Luhansk People's Republics and to decentralize power, giving those Republics autonomy which they had voted for in popular referenda.
Additional provisions included the withdrawal of illegal armed groups and mercenaries from Ukraine, the release of hostages and illegally detained persons, the establishment of security zones and independent monitoring of the conflict zones, prosecution and punishment of war criminals, and continuance of inclusive national dialogue.
Unfortunately, the Minsk protocol was never followed, and conflict in eastern Ukraine persisted, leading to the signing of the Minsk II protocol in February 2015.
This protocol reaffirmed many aspects of the first Minsk agreement, including the promotion of decentralization and autonomy for the Donetsk and Luhansk Republics, which was to be enshrined in a new Ukrainian constitution that was to recognize the diversity of religions, languages and cultures within Ukraine.
When a law was passed in the Ukrainian parliament granting Donetsk and Luhansk partial autonomy, Russian Foreign Minister Sergey Lavrov said that the "law was a sharp departure from the Minsk agreements because it demanded local elections under Ukrainian jurisdiction."
Russian Foreign Ministry spokeswoman Maria Zakharova said that Angela Merkel's comments on December 7 were nothing short of the testimony of a person who openly admitted that everything done between 2014 and 2015 was meant to "distract the international community from real issues, play for time, pump up the Kyiv regime with weapons, and escalate the issue into a large-scale conflict."
Merkel's statements "horrifyingly" reveal in turn that the West uses "forgery as a method of action," and resorts to "machinations, manipulation, and all kinds of distortions of truth, law, and rights imaginable.
Read the full article at: CovertAction Magazine
Background image via Kremlin.ru, cropped and resized by me.