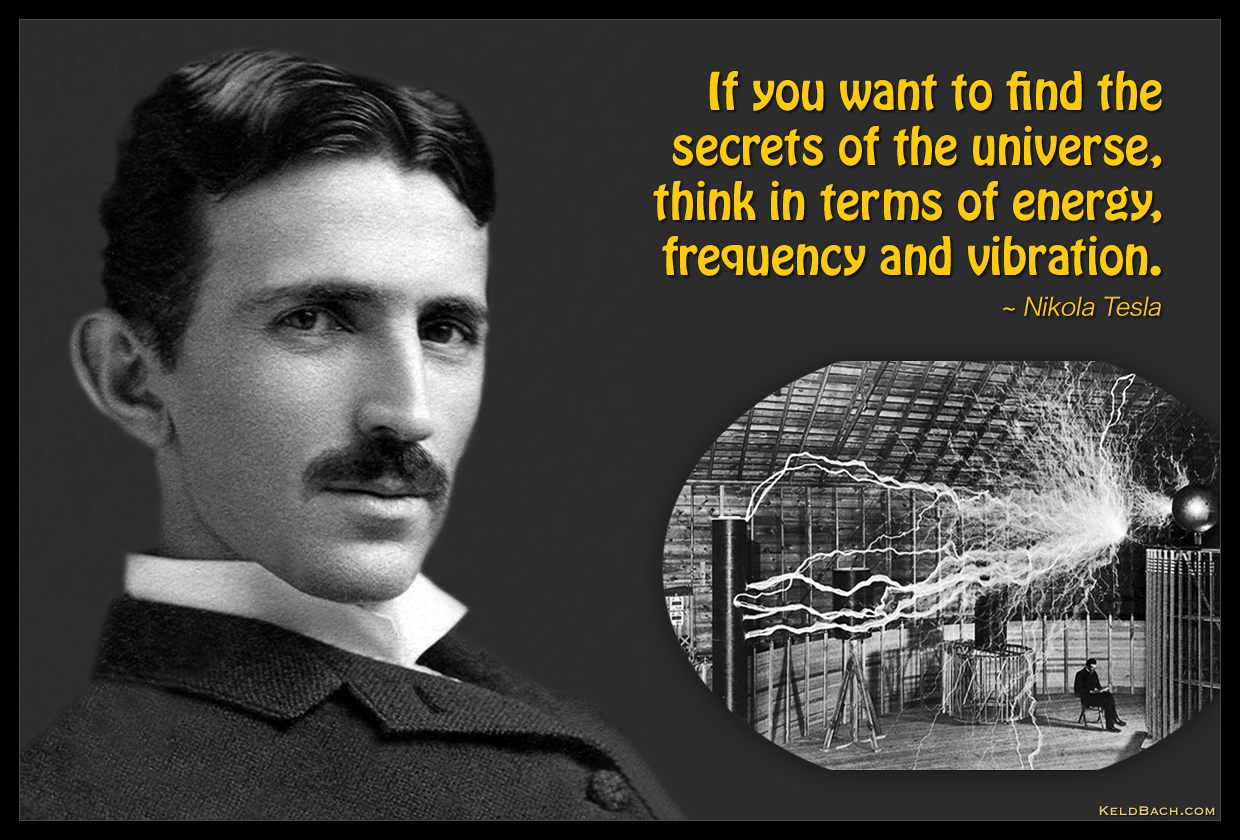 In 1899 the journalist John Smith made a rare interview with Nikola Tesla which has never been published until now. Below a few highlights:
Journalist: In the hostility to the theory of relativity you go so far, that you hold lectures against its Creator [Albert Einstein] at your birthday parties..
Tesla: Remember, it is not curved space, but the human mind which cannot comprehend infinity and eternity! If relativity has been clearly understood by its Creator, he would gain immortality, even yet physically, if he is pleased.
I am part of a light, and it is the music. The Light fills my six senses: I see it, hear, feel, smell, touch and think. Thinking of it means my sixth sense. Particles of Light are written note. A bolt of lightning can be an entire sonata. A thousand balls of lightning is a concert. For this concert I have created a Ball Lightning, which can be heard on the icy peaks of the Himalayas.
About Pythagoras and mathematics a scientist may not and must not infringe of these two. Numbers and equations are signs that mark the music of the spheres. If Einstein had heard these sounds, he would not create theories of relativity. These sounds are the messages to the mind that life has meaning, that the Universe exists in perfect harmony, and its beauty is the cause and effect of Creation. This music is the eternal cycle of stellar heavens.
The smallest star has completed composition and also, part of the celestial symphony. The man's heartbeats are part of the symphony on the Earth. Newton learned that the secret is in geometric arrangement and motion of celestial bodies. He recognized that the supreme law of harmony exists in the Universe. The curved space is chaos, chaos is not music. Einstein is the messenger of the time of sound and fury.
Journalist: Mr. Tesla, do you hear that music?
Tesla: I hear it all the time. My spiritual ear is as big as the sky we see above us. My natural ear I increased by the radar. According to the Theory of Relativity, two parallel lines will meet in infinity. By that Einstein's curved will straighten. Once created, the sound lasts forever. For a man it can vanish, but continues to exist in the silence that is man's greatest power.
No, I have nothing against Mr. Einstein. He is a kind person and has done many good things, some of which will become part of the music. I will write to him and try to explain that the ether exists, and that its particles are what keep the Universe in harmony, and the life in eternity.
[…]
Journalist: You often mentioned the power of visualization.
Tesla: I might have to thank to visualization for all that I invented. The events of my life and my inventions are real in front of my eyes, visible as each occurrence or the item. In my youth I was frightened of not knowing what it is, but later, I learned to use this power as an exceptional talent and gift. I nurtured it, and jealously guarded. I also made corrections by visualization on most of my inventions, and finish them that way, by visualization I mentally solve complex mathematical equations. For that gift I have, I will receive rank High Lama in Tibet.
My eyesight and hearing are perfect and, dare to say, stronger than other people. I hear the thunder of a hundred fifty miles away, and I see colors in the sky that others cannot see. This enlargement of vision and hearing, I had as a child. Later I consciously developed.
[…]
Journalist: Imagination is more real to you than life itself?
Tesla: It gives birth to the life. I have fed by my taught; I've learned to control emotions, dreams and visions. I have always cherished, as I nurtured my enthusiasm. All my long life I spent in ecstasy. That was the source of my happiness. It helped me during all these years to bear with work, which was enough for the five lives. The best is to work at night, because the stellar light, and close bond.
Journalist: You said that I am, like every being, the Light. This flatter me, but I confess, I do not quite understand.
Tesla: Why would you need to understand, Mr. Smith? Suffice it to believe it. Everything is light. In one its ray is the fate of nations, each nation has its own ray in what great light source we see as the sun. And remember: no one who was there did not die. They transformed into the light, and as such exist still. The secret lies in the fact that the light particles restore their original state.
Journalist: This is the resurrection!
Tesla: I prefer to call it: return to a previous energy. Christ and several others knew the secret. I am searching how to preserve human energy. It is forms of Light, sometimes straight like heavenly light. I have not looked for it for my own sake, but for the good of all. I believe that my discoveries make people's lives easier and more bearable, and channel them to spirituality and morality.
Read the full interview at Health Nut News
See also: Nikola Tesla: The Master of Lightning