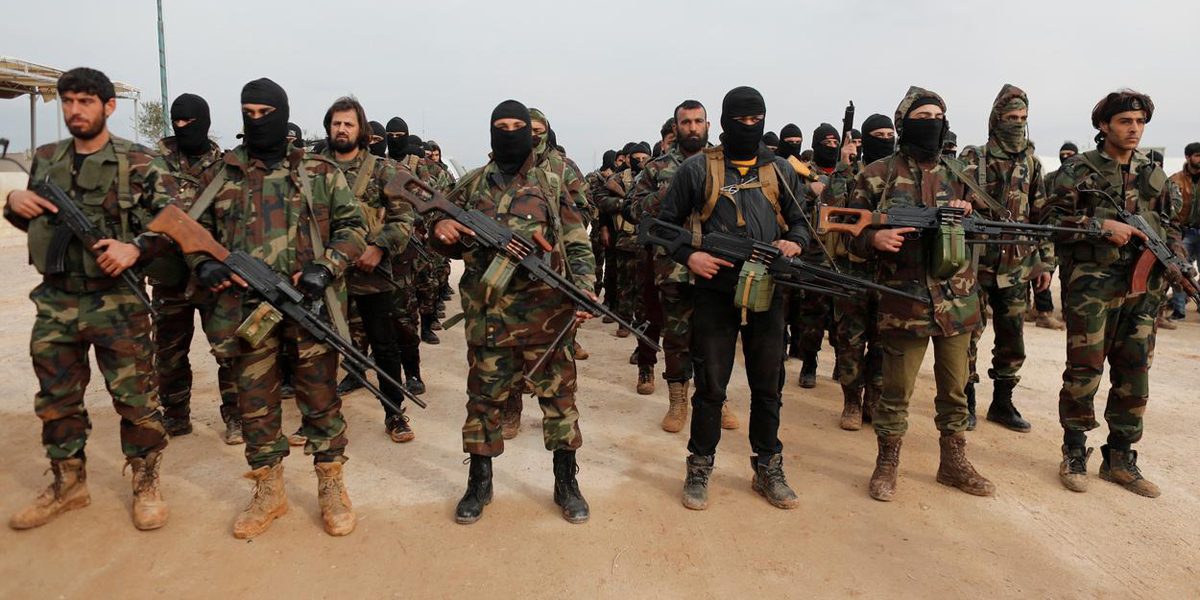 Turkey-backed Free Syrian Army fighters at a training camp in Azaz, Syria. (REUTERS/Osman Orsal)
Around 25,000 Free Syrian Army rebels are joining the Turkish military operation in northern Syria with the goal of recapturing Arab towns and villages seized by the YPG Kurdish militia almost two years ago, a rebel commander said on Sunday.
Turkey, dubbing the operation it launched in northern Syria on Oct. 9 Operation Peace Spring (which also could be translated as Operation Fountain of Peace), has been reorganizing Syrian militia groups loyal to Ankara under the banner of the Syrian National Army, or Jaish al-Watani in Arabic.
The formation of the new National Army with the participation of outfits that were active at Azaz, Jarablus, al-Bab, Afrin, Idlib and Latakia was announced at a press conference in Sanliurfa on Oct. 4. According to information offered by Abdurrahman Mustafa, the Turkey-guided president of the Syrian provisional government, the new army is composed of the Free Syrian Army and groups affiliated with the National Liberation Front. This new army will operate under the provisional government's defense ministry and its components will not be using their original names.
Groups that were under National Liberation Front, which was dominated by Islamist groups, will be incorporated into the new army under designations of 4th, 5th, 6th and 7th corps. The original National Army was organized into three corps. They will retain their organizational charts.
A statement attributed to the National Army that deployed to the field Oct. 10 declared there will be no pity for Kurdish fighters. "Hit them with iron fists, let them feel the hell of your fire," the statement said.
The following are mentioned as components of the new National Army: Ahrar al-Sham, Jaish al-Islam, Suqhur al-Sham, First Coastal Division, Liva Selam, Jaish al-Sani, Jaish al-Nasir, Free Idlib Army, Suwar al-Jazeera, 51st Brigade, Firqa Shimal, Jaish al-Ahfad, Jaish al-Sharkiyya, Firqa Mutassim, Jabhat'us Shamiyye, 5th Regiment, Liwa asl Shimal, Muntassir Billah Brigade, Festakin Kema Umirte, Jaish al-Islam, Liwa Sultan Osman, Rical el-Harb, Liwa al-Awwal Magavir, Fevc al-Mustafa, 9th Division, 23rd Division, Semerkand Brigade, Fatih Sultan Mehmet Brigade, al-Wakkas Brigade, Hamza Division, Sultan Murad Brigade, Liwa al-Fatih, Liwa Shukur al-Shimal, Ahrar al-Sharqiyye, Jaish al-Mukha, Failaq al-Sham, Sultan Suleiman Shah.
Among them, 21 previously received aid from the CIA or the Pentagon. Also, 14 have been provided TOW anti-tank missiles. This reveals a stark dilemma: The groups that were educated and equipped by the United States west of the Euphrates are now fighting against the groups east of the Euphrates that have been also educated and equipped by the United States. In other words, two US-backed groups are fighting with each other.
Read the full article at Al-Monitor