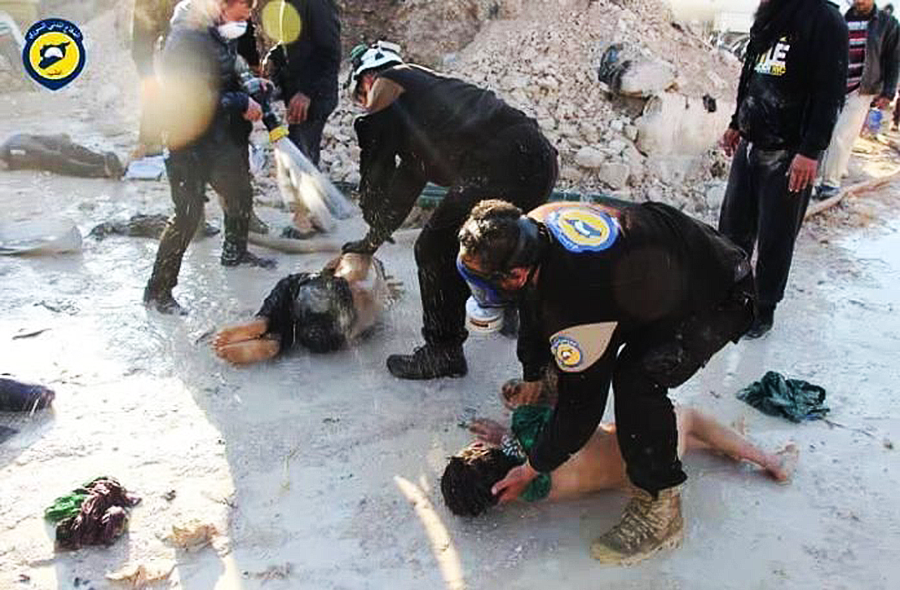 Gloves are for Sissies. Who needs basic protective gear when dealing with chemical WMDs? The White Helmets have superhuman abilities.
The whole show was designed to let Trump look strong and presidential and to get rid of the "Russia Gate" nonsense the neocons ran against him. The prospect of stopping those attacks was an offer he could not refuse.
The "chemical attack" at Khan Sheikoun was fake and a show, though some people in there were probably real victims of war. This video for example, of doctors and patients in emergence rooms was theater, taken over a longer time period. The main presenter was a well-known Takfiri but with links to British services. The whole show was perfected, by specialists one would think, to fit for U.S. screens. The male "victims" were clean shaven, despite living in al-Qaeda land. They even had two blond "Syrian" kids in there to convince the racists that "revenge" was needed.
[…]
"Russia Gate" is – for now – forgiven and forgotten. The NeverTrump-ers laud the strike and want more of them, ever more war and "regime change" in favor of al-Qaeda's rule.
More strikes may well come. The precedent has been established. Whenever al-Qaeda in Idleb comes under pressure and needs help we will see another fake "chemical attack". Will Trump follow up on those? Or will he manage to set aside the outrage that will follow such "attacks" when it does not fit his plans? Was this a one-time show? Or will Trump serialize it?
Read the full article at Moon of Alabama