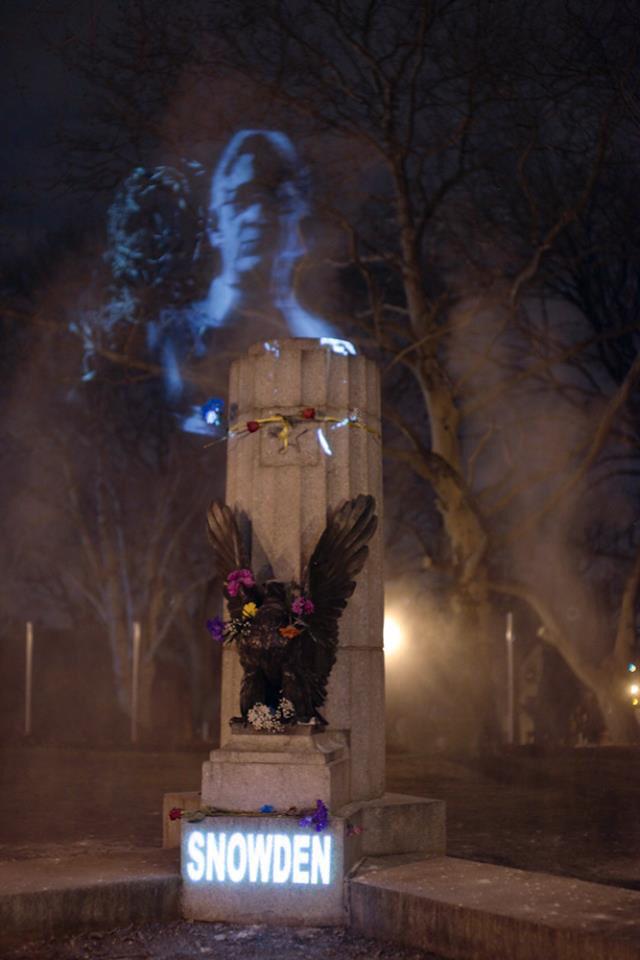 Created by a group of renegade artists, the 100-pound bust of Edward Snowden placed in a NYC park has been removed by authorities. But in a show of solidarity, guerilla projectionists crept into Brooklyn Monday night, replacing the confiscated stone with a ghostly hologram.
For a few brief hours on Monday, New Yorkers could catch a glimpse of Edward Snowden on American soil. Not the man, but a 4-foot bust sculpted to resemble the famed whistleblower, and placed atop a Revolutionary War Memorial in Fort Greene Park. No one can erase the voice of the people.
Crowds gathered, but it wasn't long before the statue was removed by the authorities.
But after nightfall, a separate group of artists, calling themselves The Illuminator, projected a duplicate of the Snowden statue against a cloud of dust over the Prison Ship Martyrs Monument.
"Inspired by the actions of these anonymous artists, The Illuminator Art Collective recreated the intervention ephemerally by projecting an image of the sculpture into a cloud of smoke," group member Kyle Depew told Gothamist. "Our feeling is that while the State may remove any material artifacts that speak in defiance against incumbent authoritarianism, the acts of resistance remain in the public consciousness. And it is in sharing that act of defiance that hope resides."
The Illuminator has mastered the concept of projection graffiti. Their mission: "To smash the myths of the information industry and allow people to find out for themselves what the 99% movement is fighting for."
Full article at: Sputnik International